Meet-the-Expert: Creating a Multimodal Brain Cell Type Atlas With Hongkui Zeng, PhD

June 25, 2020
1:00 PM - 2:00 PM EDT
This webinar is exclusive for SfN members. Please log in or join or renew your membership below for access.
To understand the function of the brain and how its dysfunction leads to brain diseases, it is essential to have a deep understanding of the cell type composition of the brain, how the cell types are connected with each other, and what their roles are in circuit function.
Join this interactive Meet-the-Expert session to hear Hongkui Zeng discuss her research team's experience in building multiple platforms and generating large-scale datasets to characterize the transcriptomic, physiological, morphological, and connectional properties of different types of neurons in a standardized manner, toward a multimodal taxonomy of cell types and a description of their wiring diagram for the mouse brain, with a primary focus on the cortex.
Access to the full article is available to SfN members.
Neuronline is a benefit of SfN membership. Renew your membership now to make sure you don't lose access.
Speakers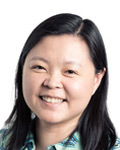 Hongkui Zeng, PhD
Hongkui Zeng is the executive director of the structured science division at the Allen Institute for Brain Science, which is working to develop and operate high-throughput pipelines to generate large-scale, public datasets and tools to fuel neuroscience discovery. There, she has also led several research programs or projects, including the Transgenic Technology program, Human Cortex Gene Survey project, Allen Mouse Brain Connectivity Atlas project, and Mouse Cell Types and Connectivity program. Previously, she worked at a biotechnology start-up where she studied the genomic repertoire of the G-protein coupled receptor (GPCR) gene family, and the function of many GPCR genes in behavioral models of CNS diseases. Zeng earned a PhD in molecular and cell biology from Brandeis University and completed postdoctoral training at Massachusetts Institute of Technology.
Sheena Josselyn, PhD
Sheena Josselyn is a senior scientist in the neurosciences and mental health program at The Hospital for Sick Children and professor in psychology and physiology at the Institute of Medical Sciences at the University of Toronto. Sheena's current research focus studies how information is encoded stored and used in the brain, primarily using mouse models. She received her Bachelor's Degree at Queen's University at Kingston and her PhD at the University of Toronto which are both located in Canada. Her previous position being a Research Associate in the Department of Neurobiology at UCLA and prior to that she worked in the Department of Psychiatry at Yale University School of Medicine.