September 07, 2022
1:00 PM - 2:00 PM ET
Over the past ten years, an in situ chemical synthesis approach to biological systems has emerged, in which functional materials are assembled within tissues such as the brain – either constructed throughout the intact tissue (hydrogel-tissue chemistry/HTC), or genetically targeted to cell types (genetically-targeted chemical assembly/GTCA). Resulting hybrid materials are endowed with diverse capabilities, including anchoring and labeling of RNA and protein, in situ sequencing, transparency, reversible size changes, and electrical insulation or conduction.
Speaker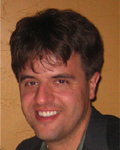 Karl Deisseroth, MD, PhD
Karl Deisseroth is the D.H. Chen Professor of Bioengineering and of Psychiatry and Behavioral Sciences at Stanford University, and Investigator of the Howard Hughes Medical Institute. He received his AB from Harvard University, his PhD from Stanford, and his MD from Stanford. His lab at Stanford is interested both in natural behaviorally-relevant neural circuit dynamics, and in pathological dynamics underlying neuropsychiatric disease symptomatology and treatment.
Who can attend these webinars? All webinars in this series are complimentary to SfN members. Join or renew for access. These webinars are $15 for non-members.
Will the webinars be available on-demand? Yes, all webinars will be available to watch on-demand one week after the live broadcast.
Will a certificate of attendance be offered for this event? No, SfN does not provide certificates of attendance for webinars.
How do I access the conference on the live day? After registering, you will receive a confirmation email with the event link and the option to download calendar reminders.
What are the technology requirements for attending? These webinars are hosted on Zoom Webinar. Instructions for joining and participating in a webinar can be found here.
Can I ask the presenters questions? Yes! You can submit any questions before the webinar through the registration form. During the webinar, you can submit questions through the Q&A box.
I have other questions not answered here. Email digitallearning@sfn.org with any other questions.
Review SfN's Code of Conduct, rules for virtual events in the Digital Learning Community Guidelines, and communications policies regarding dissemination of unpublished scientific data, listed below. SfN asks that conference attendees respect the sensitivity of information and data being presented that are not yet available to the public by following these guidelines:
Do not capture or publicly share details of any unpublished data presented.
If you are unsure whether data is unpublished, check with the presenter.
Respect presenters' wishes if they indicate that the information presented is not to be shared.
Webinar Refund Policy
What is the cancellation/refund policy for webinars?
If SfN changes fundamental details of the webinar (date, time, or speakers), non-member registrants may request a registration refund. To request a refund, please email digitallearning@sfn.org at least 48 hours before the event. Otherwise, refunds are not provided. All webinars are complimentary to SfN members.
SfN webinars can be watched on-demand if someone is unable to attend the live broadcast.