Why You Should Download the Neuroscience 2022 Mobile App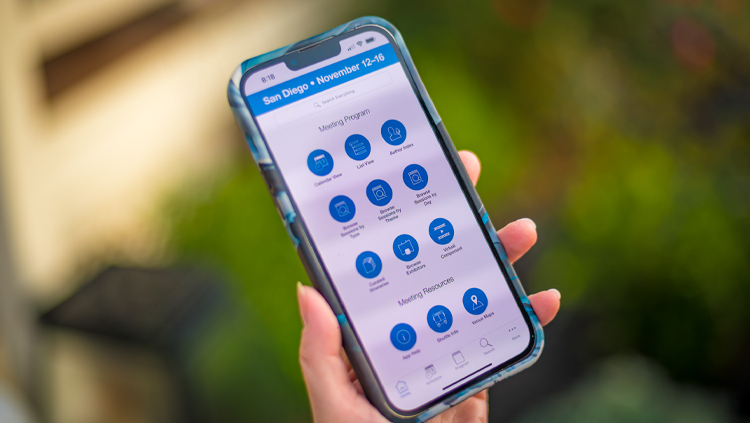 Enhance your Neuroscience 2022 experience by downloading SfN's Annual Meeting App, available now at the Apple App Store and Google Play Store.
Once downloaded, log into the app with your six-digit registration confirmation number/badge ID number and last name.
If you do not have your badge ID number, go to the Registration Resource Center and select "Forgot Your Login Information" link, or contact SfN registration at (508) 743-8563 or email sfnregistration@xpressreg.net.
Plan Your Schedule
With the Mobile App, all SfN22 attendees can search through all annual meeting events to plan their schedules ahead or find events that interest them while at the meeting. The app gives attendees the opportunity to search through programming by theme, day and session type.
Get Convention Center Maps
You will also be able to access exhibit and poster floor maps on the app, helping you navigate through the convention center to find what you are interested in.
Sync With the Neuroscience Meeting Planner
If you already have created a personal itinerary ahead of time through the Neuroscience Meeting Planner, sync it with the mobile app to access it directly on your phone.
Participate in Q&A Sessions
While Neuroscience 2022 will be held in-person in San Diego, CA, November 12-16, SfN will also offer a sampling of annual meeting content virtually.
New this year, Q&A sessions for in-person and virtual programming will be conducted through the app. Only select events will be taking questions from the floor, so attendees will need to download the app in order to get their questions answered by speakers in person.
Browse Through Abstracts
Before even stepping off the plane in San Diego, browse through the abstracts of the posters that will be at the meeting and decide which ones to add to your schedule.
Receive Program Alerts on Your Phone
The app also alerts you when your sessions are starting directly on your phone, and attendees can also access the latest news and up-to-date information on sessions and events, to ensure that you will not miss any important messaging from SfN.
Network With Attendees or Speakers
The app also enhances another pillar of SfN's Annual Meeting: networking. Easily share contact information with other attendees by exchanging virtual business cards that are stored in the app. Attendees can also find the email addresses of any speakers they want to connect with through the app.
Complete your attendee experience by downloading SfN's Annual Meeting Mobile App, the perfect companion tool for Neuroscience 2022.